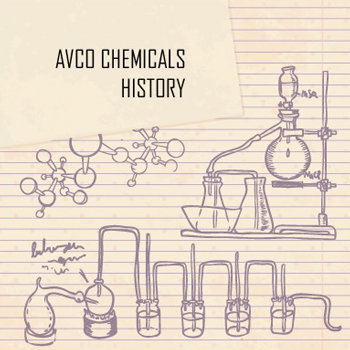 Established in 1973 by Avner Cohen and Zeev Lahat.
1987: Avco SA Set up of production plant in South Africa.

1990: Expansion of the plant -. Modern reaction vessels, new storage and packing facilities. Set up of international network of sales and distribution agencies: UK, USA France, Belgium, and Portugal
1990: Development of a full range of environmental friendly, bio- degradable "green" products.
1994: Avco received Outstanding Exporter Award for 1994 in the field of chemistry from the Israeli Ministry of Industry & Trade.
1996: Formation of Avco Turkey.
1997: ISO 9002 and IQ Net total quality management certifications.
1997: AvcoMex – Set up of production plant in Mexico.
2000: Production expansion polymerization plant – emulsions, dispersants thickeners and adhesives to paint, construction, textile and construction.
2001: Dichlorophene production line..
2002: Establishment of CHEMIART, raw materials trading company.
2004: Acquisition of Chemiprint – manufacturer of consumable products for the printing and flexible packaging industry with over than 30 years of experience.
2004: Avco launched a new I&I laundry and homecare cleaning product range.
2005: AvcoVietnam – set up production plant in hcmc Vietnam.
2005: QIZ trade agreement Avco open sales and marketing offices in Egypt and Jordan.
2010: AvcoBrazil – set up modern production plant in Fortaleza Brazil.
2014: Avco received leading Exporter Award under QIZ agreement to Egypt textile industry